VPN, an acronym for a virtual private network that provides you an extra layer of privacy, enables you to access banned websites, and a secure connection for the transfer of information that can be confidential to you. Moreover, you can manage multiple user accounts, block content, and secure your data from hackers and other trackers. Out of thousands of VPN services, we bring you the top pick for 2022. Here are the top 3 VPN services that help you build more robust privacy online.
Before featuring the VPNs, let's first discuss the main factors you should consider when choosing a VPN service.
Factors to keep in mind when choosing the best VPN app
Speed and reputation:
Everyone wishes for a significant rate for streaming and downloading. However, when selecting a perfect VPN, you must read professional and customer reviews so your network performs well.
Servers:
When sever is less crowded, your performance improves, and the closer you get to the server, the faster connection.
Customer support:
If you face difficulty, you always need the best customer support. Therefore, VPNs with the best customer support can entertain you well.
Encryption:
Choose a VPN with an advanced encryption standard to ensure better security and privacy.
Protocol:
A VPN protocol tells you how secure is a VPN service. Therefore, you should use an advanced VPN with OpenVPN protocol and avoid weak security protocols like PPTP.
Features:
Choose a VPN that matches your needs. When you select a VPN that shows better compatibility, it ensures perfect online performance.
Free trial:
Knowing the application's performance is best before deciding what to purchase. Therefore, a VPN should offer you a free trial to understand its features and privacy conditions.
Click here to know more details about VPN
Top best VPNs
We analyzed the services that can provide you with the best experience. Here you go!
NordVPN
NordVPN has the best customer and expert reviews with 4.5-star ratings. It gives you 24/7customer support with 5,500 above servers in more than 80 server locations in 60 countries. Moreover, it has six simultaneous connections
The most popular features of NordVPN:
Stay safe with a secure internet
Protect your data with a strict no-logs policy
Use with ease on any device
One account and multiple devices
Watch and download with the fastest VPN, and access your content
VPN servers everywhere.
Block malware, viruses, trackers, and more
Pricing:
The exclusive 2-year plan (VAT may apply in each deal)
Complete package in just $5.29 per month and $126.96 for the first two years (SAVE 68%)
Plus package in just $3.99 per month and $95.76 for the first two years (SAVE 62%)
The standard package is just $3.29 per month and $78.96 for the first two years (SAVE 60%)
The exclusive 1-year plan (VAT may apply in each deal)
Complete package in just $6.99 per month and $83.88 for the first year (SAVE 57%)
Plus package in just $5.99 per month and $68.28 for the first years (SAVE 46%)
The standard package is just $4.99 per month and $59.88 for the first year (SAVE 60%)
The exclusive monthly plan (VAT may apply in each deal)
Complete package for just $13.99 per month
Plus package in just $12.69 per month
The standard package is just $11.99 per month
NOTE: Each package offers you a 30-day money-back guarantee
You can get the following facilities in each pricing:
Secure and high-speed internet
Malware protection
Tracker and ad blocker
Cross-platform password manager
Data breach scanner
1TB encrypted cloud storage (unavailable in plus and standard deal)
ExpressVPN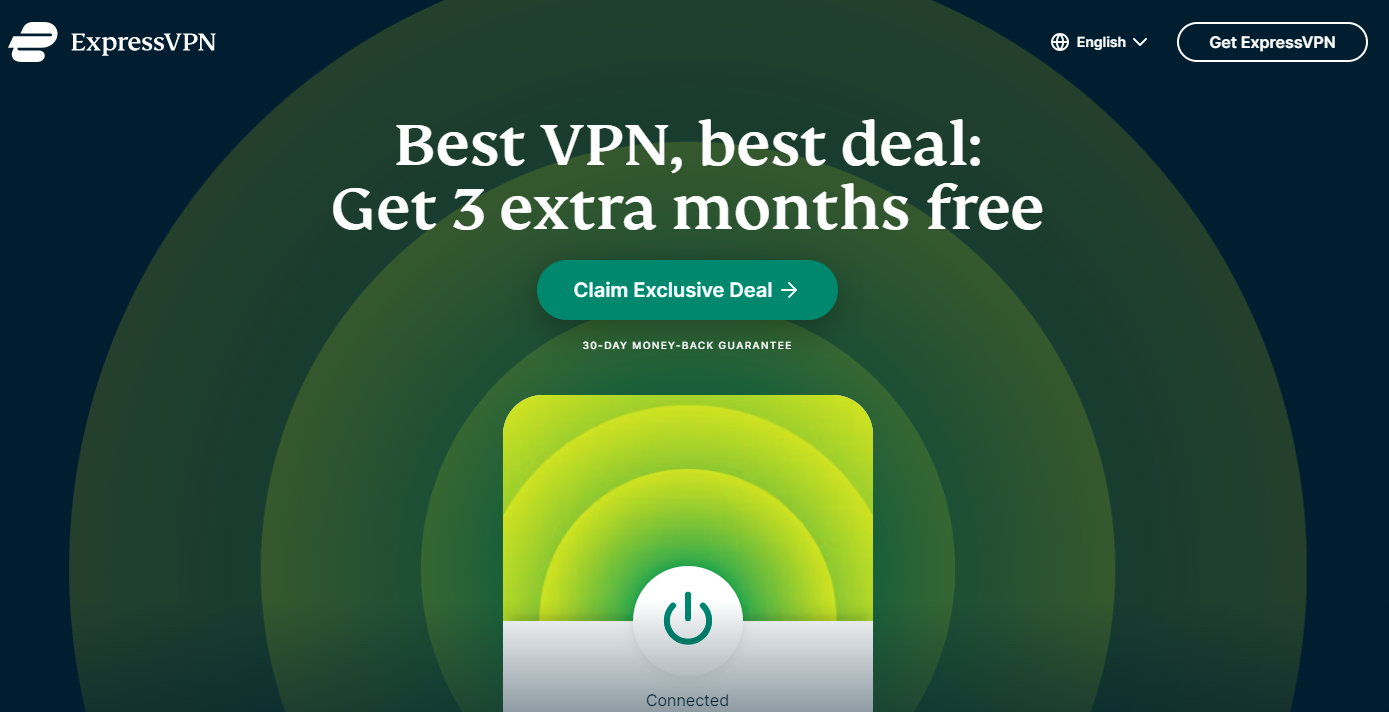 ExpressVPN has been the most used VPN service, with the best customer reviews and 4.3-star ratings.
Unblock streaming sites like Netflix, Disney, Amazon, and BBC iPlayer. Their customer support is available 27/7, which makes it best for work efficiency. Moreover, you are offered a free trial. However, once you buy the subscription and get unsatisfied, you can claim a refund within 30 days. There are over 3,000 servers, 160 server locations, access to 94 countries, and five simultaneous connections.
Features of ExpressVPN:
24/7 customer support through a live chat
Functional in every device
Best-in-class security and encryption
Fastest servers in 94 countries
Stay safe with no logs and no connection logs
Cutting-edge VPN protocols
Secure DNS, leak protection, and network lock
Split tunneling
Pricing:
ExpressVPN is $6.67/month for 12 months
ExpressVPN is $9.99/month for 6 months
ExpressVPN is $12.95/month for 1 month
NOTE: 30 days money-back guarantee
Visit site
Click to download for Windows
Surfshark
Surfshark
With 4.7 ratings, Suefshark provides an excellent VPN service with 3,200 servers and over 100 server locations in 65 countries. In addition, you get unlimited connections simultaneously.
Best of Surfshark:
Reasonable and eye-catchy deals
No limitations on the number of devices
Speedy and easy unblocking
The best security for your data
Protects your devices and no logs
Secure encryption
Reach banned content
One network and unlimited devices
Safer with two-factor authentication
Ad blockers
24/7 support
Works with OpenVPN speed
Pricing: (82% Discount)
Surfshark 1-month deal for $12.95 per month
Surfshark 12 months deal for $3.99 per month
Surfshark 24 months deal for $2.30 per month
NOTE: 30 days money-back guarantee
Take away
Hence, connecting to a VPN network before you begin your online activity can help you browse the internet anonymously and encrypt your data to ensure your privacy digitally. Furthermore, it saves you from cybercrime, protects your information, keeps your business privacy safe, and gives you various other benefits. Therefore, you should use a VPN to secure your digital activity.
The VPNs, as mentioned above, are trustworthy, can facilitate you excellently, and enable you to build safer connectivity.